(Editor's note and apology: Somebody read this post and pointed out all the negative connotations and qualities of the words "glitter" and "glitz". By way of explanation I am referring ( probably poorly and at risk of coining new meanings ), to only the positive qualities of these two words. I took the liberty to use "glitz" to mean sumptuous; that is, something inherently wealthy or expensive, and "glitter" to mean "gorgeous but superficially glamorous" After all, the area around Fremont Street is still called "glitter gulch" and in my mind this is still an apt description ...)
This weekend was a kind of escape into tourism ( versus localism ? ) for me, maybe because business is slow, the world is catching its collective breathe waiting to see what changes are in store economically ( and politically ), and Vegas went from Summer to Winter, or at least warm to cold in what seems to this local like a very short time. Every year the fact that the high desert of Mojave seemingly has no transition season between Summer and Winter always surprises and amazes me, and when the market took a dive lately, I'm not sure many of us were prepared for that transition either. Let's just say my 401K is now more like a 201K!
So as a master of escapism ( Houdini like ), my first destination ( the glitzy one ) yesterday was the
Casino Monte Lago
at
Lake Las Vegas Resort
in Henderson. I had a mailed postcard for a "free" gift: a leather duffel bag that looked like just the ticket to pack some personal effects and go on a not so well deserved trip away from Vegas. So, since Casino Monte Lago is know for its
high end gifts to loyal patrons
( in addition to mugs and tee shirts ) --- I felt obligated to "pay them back" for their generosity, which I did handsomely on one of their new penny slot games that I am not familiar with that replaced the old "Twilight Zone" and "Nickel Wheel Of Fortune" machines. I wrongly assumed that a new game would pay more at the beginning to attract new players, but I was sadly mistaken.
Anyway, after picking up my "consolation" gift and a coupon for a free meal celebrating Oktoberfest at their new Portofino events room, I felt a little better. The events room is mentioned in their latest monthly Monte Lago Village Resort newsletter:

'Book your holiday party at Portofino! Portofino is Casino MonteLago's new Events Room located next to the Tenuta Bar. Domed painted Cathedral ceilings and wrought iron sconces accent this beautiful Tuscan-styled room, which boasts 1,100 square feet of meeting space and accommodates up to 100 people. Outdoor patio space is available for pre-function events.'

'For additional information or to schedule a tour, please contact Chris Eissler at (702) 939-8922.'

I left the "glitz" of Casino Monte Lago with an idea that I would go back to my old haunting grounds in downtown Vegas ( the "glitter" part of my great escape ) as soon as possible. So today I wandered downtown to the Plaza Hotel and Casino at One Main Street and what a contrast! I decided to play craps at a 3 dollar minimum table, and mind you I have not played at a table game in over 5 years! But once learned, craps is like riding a bicycle, in that you never forget how to play, although there is no guarantee you won't still fall off your bike. Playing and winning are two different things, however, and I lost most of my small stake after an hour of play and knew it was time to quit when the box man raised the minimum bet to five dollars. Luckily, a short play at the 25 cent wheel of fortune and I won my most of my money back. I vowed that I would stick to the slots for a while.
And while in the Plaza Hotel and Casino, I noticed that there was what looked like a really fun old fashioned dinner show called "The Rat Pack Is Back!" which I made a mental note to attend in the near future.

'The Plaza Hotel & Casino is bringing back the roots of Las Vegas entertainment, classic Vegas-style dinner shows with huge success. The Rat Pack is Back! is an eccentric must see show, featuring the best Frank Sinatra, Sammy Davis, Jr., Dean Martin and Comedian Joey Bishop impersonators around recreating a nostalgic return to the Sand's Copa Room. Boasting the only remaining live big band in Las Vegas, the energetic show features the Lon Bronson Orchestra and is the only Las Vegas based show with national touring productions and an award from the "Congress of the United States." The show is a hit and a perfect fit for this nostalgic showroom, evidenced by the fact the show has recently been playing to sold-out audiences.'

'Dinner options are also available at 6 p.m. nightly including seating inside the showroom, which also retains the real classic-Vegas feel. The dinner show, the Rat Pack is Back!, performs at 7:30 p.m. nightly, except Sunday, with an additional show on Saturdays at 10 p.m. Tickets start from just $49.00 plus tax and fees for general show admission and from $59.99 plus tax and fees to include dinner.'

After visiting the Plaza, I wondered back to Henderson via the long "scenic" route on East Freemont (
always an exciting experience
) to Boulder Highway. I stopped by
the Eastside Cannery
to see Jimmy Limo play his guitar at the newest property on the Boulder Strip. Mind you I had not actually caught Jimmy playing at his new venue since the Eastside Cannery opened in late August. I requested or asked politely ( Jimmy always takes requests ! ) for Jimmy to play "Secret Agent Man" and it sounded oh so good. Then he played Dylan's "Knocking On Heaven's Door" which sounded even better with his new vocal harmonizer gizmo that adds two and three part harmony to his vocals in real time. And then he indulged me by playing his original composition called "Sunset Ridge" which he almost forgot he had written ( just joking, Jimmy! ). Jimmy performs at the Pin Ups Lounge every day except Tuesday ( Monday, Wednesday - Sunday 4:30pm - 7:30pm ) . Jimmy is such a class act that he exhibits both sides of Vegas, the glitter and the glitz! His music is a perfect complement to the Eastside Cannery's 50's and 60's theme. Anyway, stop by the Pin Ups Lounge some evening and relax at the bar or at your favorite casino slot game, and tell Jimmy "Mercurial Mike sent me" ! He will probably reply: "Who?"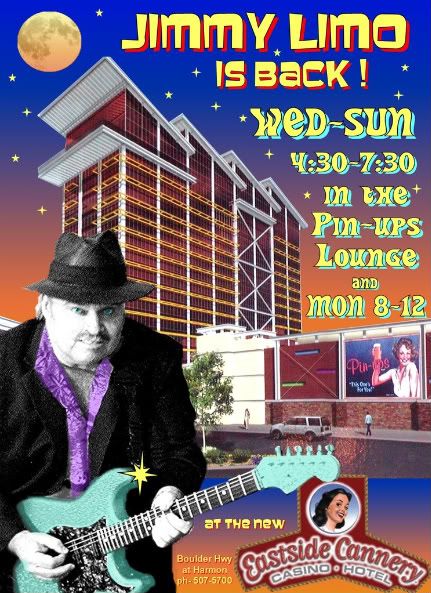 ---
About The Plaza Hotel And Casino

"The Plaza offers an array of innovative table games and slot machines; a new restaurant called Lombardi's Italian Kitchen; the DOME, Las Vegas' only ultra sports lounge; the largest race and sports book downtown; the hottest shows in town – the Rat Pack is Back and Viva Las Vegas; free live entertainment right on the casino floor in the Aqua Lounge; the Lucky 7's Buffet; and a host of other amenities including a roof top swimming pool and tennis courts. Guests may call (702)386-2110 or (800)634-6575 or visit www.plazahotelcasino.com for more information and/or hotel reservations."